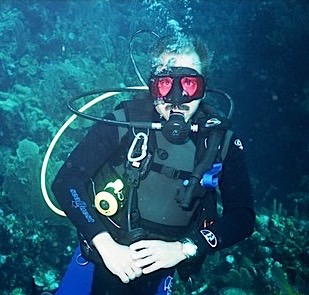 David J. Apple
Scuba Instructor
PADI Speciality Instructor #251091
PSAI Master Instructor #582
SDI Advanced Instructor #12696
SSI Dive Control Specialist Instructor #10455

Ever since he saw his first Sea Hunt episode and Jacques Cousteau Special as a youngster, David Apple has been fascinated with the underwater world.  As a diver for over 20 years, he found he wanted to share his excitement and love of SCUBA Diving with others.
As a professional educator, David has a personal philosophy of, Never Stop Learning!, and learn as much as you can.  Experience is a great teacher, but also ask questions from those who are more experienced!
David's favorite diving activities include diving on and exploring the historic shipwrecks of the Mid-Atlantic, and photographing the beautiful tropical reefs and fish of the Florida Keys and the Caribbean from the Bahamas to the Turks and Caicos Islands to Cozumel and Honduras.
David was originally  trained by SSI and worked his way up to attaining the rating of Dive Control Specialist Instructor.  David is currently teaching Open Water and Advanced Courses under PADI, SDI and PSAI, where he holds the rating of Master Instructor.  David is currently  on the instructional staff of Eastern Watersports in Middle River, Maryland and Undersea Outfitters in Westminster, Maryland.
When not exploring out underwater world and teaching SCUBA classes, you can find David teaching instrumental music at the middle school level in the Howard County Public Schools, or playing his trumpet with various groups in the Baltimore Area.